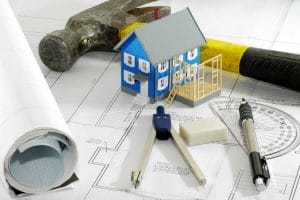 Is your home getting too small for your family and are you looking at renovations?  If you plan carefully, you can renovate your home to not only make it look better and work better, but also last longer and be more comfortable for your family.
It is important to look at your financial situation and get expert advice on what the best option would be to fund this project.  Homeowners have higher expectations than in the past, particularly about comfort and interior design.  Renovations are an opportunity to address some of these expectations.
Some reasons people decide to renovate are:
Upgrade or improve outdated or deteriorated systems – replacing an outdated furnace, old siding or windows are common upgrades.
Maintain and repair various elements of the house – re-shingling a roof or fixing foundation cracks are typical.
Address lifestyle needs – converting unused attic space into living quarters or add a sunroom or build a home office.
To renovate is an ideal time to make your home healthier for you as well.  When assessing your renovation project, be sure to consider the following as well:
Occupant health – create a healthy, clean and hazard-free environment with improved indoor air quality.
Energy efficiency –  effective air barriers and insulation, energy efficient heating, ventilation and air conditioning equipment, energy efficient lights and appliances.
Resource efficiency – Durable materials that need to be replaced less often, water-conserving fixtures, recycled or reused items, minimal construction waste.
Affordability – energy- and water-efficient equipment and fixtures to reduce ongoing operating costs, durable products to reduce future repair and replacement expenses.
As you assess your renovation project, ask yourself how changing particular components will affect the performance of the whole house.  For example: As part of a bathroom renovation you may want to add a hot tub that will generate large amounts of humidity during operation.  Your existing ventilation may be inadequate to handle the increased moisture levels.  It is therefore important that you always remember to consult with a qualified home inspector or a professional contractor.
Undertaking maintenance and repair projects such as correcting structural flaws, fixing leaks and making sure that all services are safe and adequate will not only make your home safer, more efficient and more durable, but also increase the value.
We have a program set-up with Above & Beyond Home Concepts to make the renovation process easy and seamless.  If you are considering renovations, and am unsure as to how to finance it, don't delay, give us a call.
Original Article: www.cmhc.gc.ca