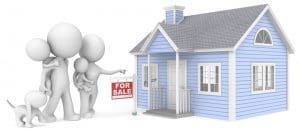 Home ownership is becoming more and more elusive for young Canadians who fear going broke.  The question is therefore, can you afford to buy a home?
Most Millennials today, are happy with their current living situation despite not having what many young Canadians dream of achieving: Home ownership. 
Most young Canadians have been renting most of their adult life, and while owning a home might be a goal for them someday, it's not a priority – or financially viable – at this point in time.  The ideal would be to own a free-standing home, close to public transportation, but it's just not feasible for many.
With consumer debt levels on the rise and interest rates expected to move higher this year, young Canadians are weighing whether going house broke to own property is a good idea for their finances in the long run.
The experts are saying that when considering whether to rent or buy, young people should be aware of the added costs of home ownership beyond mortgage payments, such as property taxes and repairs.  "You don't really want to get into a situation where you're so tight that one little thing, one emergency, one unexpected expense, can cause you to miss your mortgage payment."
Making home ownership more affordable
While not everyone sees the benefit of home ownership in the current market environment, Finance minister Bill Morneau said last month, the federal government is looking at ways to make buying a home more affordable for Millennials.  He didn't offer up any specifics, but experts have weighed in on some possible solutions.
The Chief economist with CPA Canada said, one course of action the government could take, is creating incentives for young people to save, similar to what the UK government implemented with its Help to Buy Plan, which pays savers a government bonus each time they tuck away £200 for their first home.   Other ways governments traditionally try to make it easier is through measures that make it easier for borrowers to get into debt but that's a less positive way of doing it.
Ultimately, the financial decision to own a home, comes down to individual situations and goals.  It is important for someone looking at the housing market today, to do a very conservative, realistic assessment of whether or not, what they're trying to get to, is affordable over the long term.
If you are considering becoming a homeowner but not sure if you can afford it, give us a call and we will be able to look at the options available to you.
Original Article:  www.bnnbloomberg.ca