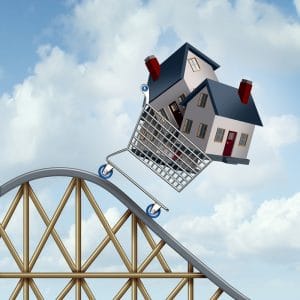 Canada's home sales skidded to the lowest level since 2012 last year, after dropping for four straight months through December, as higher interest rates and tighter lending rules cast a cloud over the real estate market.
Nationwide, sales dropped by 11% for the year, which was the biggest since 2008, the Canadian Real Estate Association (CREA) said Tuesday.  The 2.5% December drop from the prior month, was the most in 8 months. Vancouver and Toronto led the slowdown in transactions.'  'It's clear that higher interest rates are having an impact,' Benjamin Reitzes, a Canadian rates and macro strategist at BMO Capital markets, said.
Vancouver sales fell 32% last year, the most since 2008 and Toronto sales decline by 16%.  Toronto showed some stability in December with sales flat on the month and benchmark prices up 3% from a year earlier.  Vancouver's average sales price was $1.03 million in December down 2.1% from a year earlier, and the Toronto average was $750,180.  Needless to say, these markets are well ahead of the national average price of $472,280.
CREA attributes the weaker annual activity to a range of economic and policy factors, including tougher mortgage requirements and rising interest rates.  CREA's President Barb Sukkau writes: ' What a difference a year makes.  Sales trends were pushed higher in December 2017 by home buyers rushing to purchase before the new federal mortgage stress test took effect at the beginning of 2018'.  Since then the stress test has weighed on sales to varying degrees in all Canadian housing markets and it will continue to do so this year."
In addition, interest rates were hiked four times between 2017 and 2018, by a total of 100 basis points.    CREA Chief Economist Gregory Klump, expects that housing will undermine economic growth this year, as the mortgage stress test has pushed home ownership affordability out o f reach for some home borrowers.
According to CREA  statistics, apartment units posted the largest y-o-y price gains in December (+4.9%) followed by townhouse/row units (+3.1%).  By comparison, two-storey single-family homes posted a small increase (+0.4%) while one-storey single-family home prices eased slightly (-0.6%).   Trends continue to vary widely among the 17 housing markets tracked by the MLS HPI.  Results were mixed in British Columbia.  Prices are now down a y-o-y basis in Greater Vancouver (-2.7%) but remain above year-ago levels in the Fraser Valley (+2.5%).  Meanwhile, prices posted a y-o-y increase of 6.4% in Victoria and rose 11% elsewhere on Vancouver Island.
One thing is certain, the market is always changing.  Aligning yourself with the experts who will help you with clarity in the ever-changing market is becoming more and more important.  If you have any mortgage or interest rate questions, contact your mortgage expert.
Original articles:  www.crea.ca/newsroom and www.business.financialpost.com