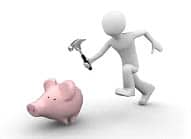 As a first time homebuyer, buying a home is one of the biggest financial decisions you will make.  It is therefore important to know your current financial situation to be sure that you buy a home that you can afford.
Many people believe they have to save a large down payment.  Talking to home owners, most will say 10% is what you should put down.  However, if you speak with your grandparents, they are likely to suggest that 20% is what you need for a down payment.
Before February 15,2016, homebuyers could have a down payment minimum of 5% for homes under $1 million.  The new rules require a minimum 10% down payment for homes over $500,000 – but only on the portion of the price over $500,000.  Up to and under $500,000 a 5% minimum down payment will be accepted.
In January 1st, 1946 the Canadian Mortgage and Housing Corporation (CMHC) were created by the Canadian government.  Before this time, you needed a 20% down payment to purchase a home.  This made home ownership difficult for many Canadians.  CMHC was created to ease home ownership.  Basically what CMHC does is it guarantees that you will not default on your mortgage payments.  If you do, they will reimburse the lender who gave you the mortgage, up to 100% of what the homeowner borrowed.  In return lender allow you to purchase a home with a smaller down payment and a lower interest rate.
CMHC charges an insurance premium for this service to cover any losses that may occur from defaulted mortgages.  This program was so successful that CMHC lowered the minimum down payment to 5% in the 1980's.
However, if you have little credit history or some late payments in the past, they may ask you to provide 10% instead of the 5%, if they feel there is a risk that you may default at some time.  It is always important to remember that the more money you put down, the lower your monthly mortgage payments will be.  You will also save thousands in mortgage default insurance premiums by putting 20% down.   Currently the home buyers who put 5% down, have to pay a 4% of the mortgage amount to CMHC,  or to one of the other mortgage default insurers.  On a $400,000 mortgage, it is around $16,000/
While 20% can seem like an impossible amount to save, you can use a combination of savings, a gift from family, and/or a portion of your RRSP savings to achieve this figure.  Talking to your mortgage professional to discuss your options will always be a good start.
Original article: www.dominionlending.ca/news