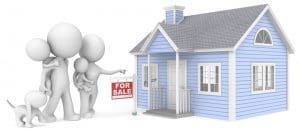 Are you curious about what you need to earn to afford a single-family home across Canada?  In Vancouver, you need to be in the top one percent to buy a detached home at current prices.  Home affordability has become so strained in Canada's priciest markets, that if incomes don't catch up, house prices will fall, says the co-author of National Bank of Canada's latest home affordability report.
The data for the third quarter of this year, show the costs of owning a home rose in nine out of the 10 major cities surveyed, with only Winnipeg showing a minor improvement.  Affordability has been deteriorating steadily for more than three years at this point.
Softer prices in Toronto and Vancouver didn't help with home ownership costs, because mortgage rates are on the rise and wages in these cities slid during the quarter, according to economists Kyle Dahms and Matthieu Arseneaue.
In both Toronto and Vancouver, affordability is at it's worst levels since around 1990.  Back then, the Bank of Canada pushed interest rates to double digits, far higher than they are today, making mortgages supremely unaffordable.
The National Bank's report shows that Vancouver real Estate prices have risen to the point that you would need a household income of $238,818 to qualify for a conventional mortgage (20% down payment) on a detached home in Vancouver.  That's just slightly less than the income you need to be in Vancouver's one-per-cent club: $246,000 a year (according to data from the 2016 census).
In Toronto, you need a total income of $159,289, while in Quebec City, the most affordable major market, you can get a single family home in $51,000 a year.
Housing affordability has worsened in every quarterly National Bank report for the past three years, but co-author Dahms says that can't go on much longer in the priciest cities.  'In Vancouver and Toronto, our affordability measures are at extreme levels.  Even if interest rates are in an upward trend, we doubt that further deterioration for affordability will occur.   If income growth does not compensate for rate hikes, our view is that home prices will have to adjust downward.'
Rates are likely to keep going up.  The Bank of Canada has raised it's key lending rate five times in the past year and a half, from 0.5 per cent to 1.75 per cent.
Analysts generally expect the Bank to keep up the pace fro a t least the next half a year, with the next rate hike likely to be in January.
Original article: www.huffingtonpost.ca